Lust for Light: Illuminated Works
Hannah Stouffer, Berkeley: Gingko Press, 2018
Excited to be included with all these amazing artists - including Yayoi Kusama, Ivan Navarro, Jennifer Steinkamp and Laddie John Dill!
"Whether it glows lustrously from neon, emanates purely from LEDs or radiates with intensity from lasers, this elemental medium, light, fascinates artists and viewers alike. Lust for Light selects works by artists who have used light as a primary or catalyzing agent in the featured pieces. Taking a dynamic approach in its curation, the book features the use of illumination in more traditional gallery forms as well as in three dimensional and large scale installation pieces. Many of the featured artists are skilled fabricators who have been honing their light-inspired works for years, while others have made stunning pieces through collaborations and daring forays, cross-pollinating their artistic visions with new technologies in the process.
Hotel Figueroa

Following an extensive renovation, downtown Los Angeles' Hotel Figueroa is having its very own renaissance. Award-winning Santa Monica design agency Studio Collective updated and re-imagined the historic hotel, capturing its fierce spirit and restoring the property to its original splendor. Paying respect to the original Spanish Colonial design, Studio Collective maintained the building's footprint as they infused the hotel with modern touches. The team redesigned the property's 286 guest rooms and public spaces, enhanced the original lobby skylights, and rehabbed the iconic coffin-shaped pool. The renovation also provided a prime opportunity for the hotel to reconnect with its feminist past. First opened in 1926 as an exclusive women's hostel run by the YMCA, Hotel Figueroa was, at the time, the largest project to be financed, owned, and operated by women.
Advertised as "an ideal stopping place for ladies unattended," Hotel Figueroa served as a safe haven for both female travelers and the emerging class of businesswomen, and it soon evolved into a forward-thinking gathering place that hosted musical evenings and art exhibits for female artists. The hotel's first managing director, Maude Bouldin, was a strong feminist figure who flew planes, rode motorcycles, and organized political events. Clearly ahead of her time, Maude is now immortalized in a bold crimson portrait by local Los Angeles artist Alison Van Pelt.
The portrait is part of a vibrant arts program—curated by Tiffiny Lendrum—which features a noteworthy collection of local female artists throughout the hotel. In fact, Studio Collective made an effort to integrate art into everything—a salute to downtown Los Angeles' booming art scene. Hand-painted elevator doors add a distinctive touch, and the entire back of the hotel features a very Instagram-able mural designed by UK–based artist Bella Gomez.
The hotel is even hosting an artist-in-residence program that will showcase new work in a lobby gallery. "We love the history of the hotel. Lots of hotel development is ground up, [but] this project had a rich history embedded in it, so there was no need to create a narrative," explains Adam Goldstein of Studi0 Collective. "We tried to keep the original bones and the original iconography that exists throughout the hotel—like the feminist upside-down triangles."
These triangles are featured in the original YWCA logo, and they symbolize feminine strength and power—which, just like the Hotel Figueroa itself, is definitely back.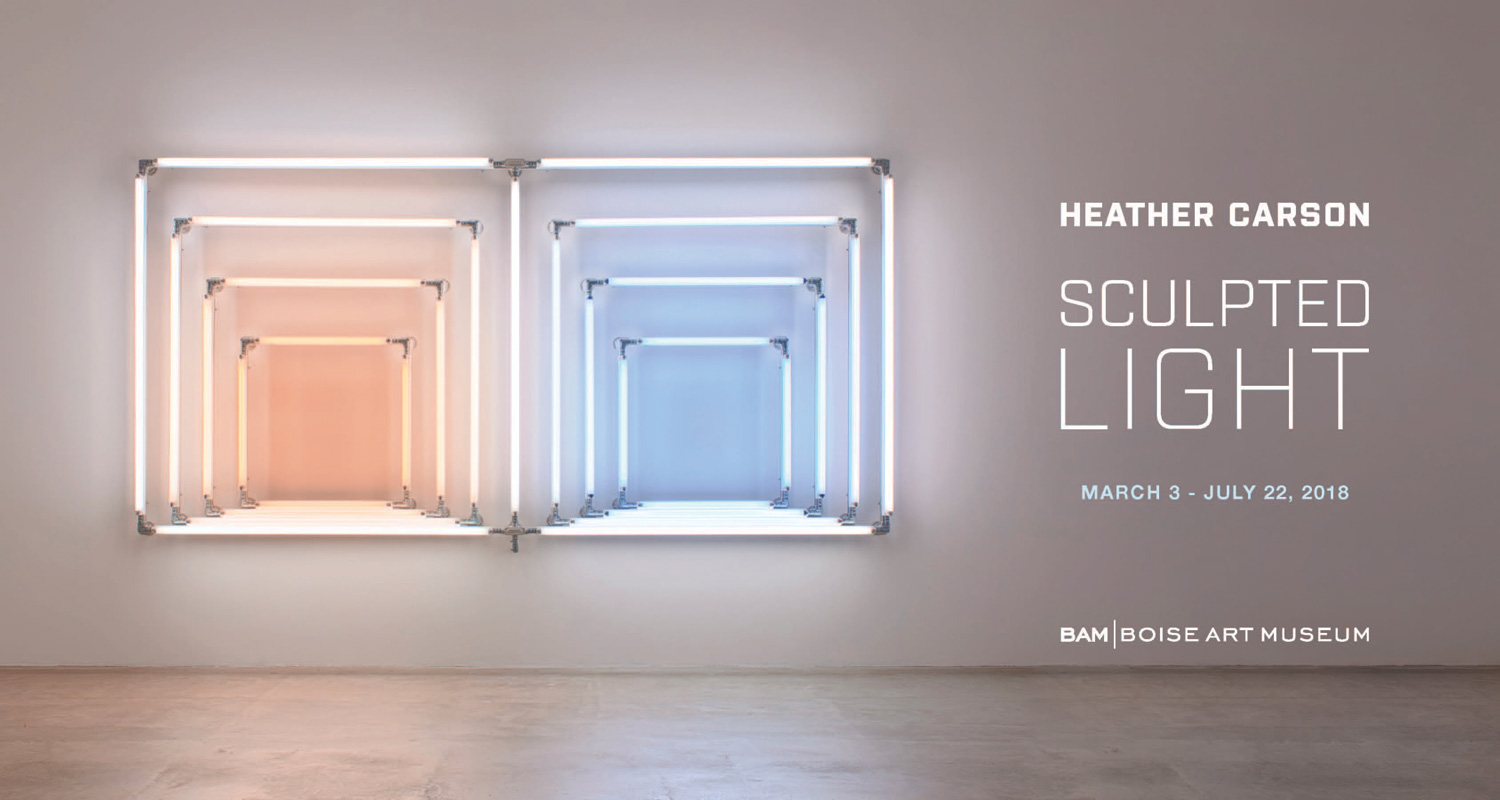 lightDOUBLE ALBERS: Warm White Deluxe/Warm White/Natural White/Cool White/Sunlight/Daylight/Daylight Deluxe
Fluorescent lights, aluminum pipe, Speed-Rail, conduit fittings
67X135 1/2X7 1/2 inches
2013
Light Sculpted
Boise Art Museum
Boise, Idaho
March 3 0 July 22, 2018

Solo museum show at the Boise Art Museum.
"As a Los Angeles native who has spent many years in New York, artist Heather Carson is influenced by both the west coast light and space movement and east coast minimalism. Using especially fabricated industrial materials to make her architecturally scaled light sculptures, she draws inspiration from artists such as Dan Flavin and Robert Irwin. Her understated sculptures are equally informed by the work of painters such as Josef Albers and Agnes Martin.
"Viewed from the front, Carson's works are delicate and luminescent, emanating a pale glow. Their subtle palettes are comprised entirely of different tones of whites, that, when placed in close proximity to one another, appear to be distinct hues. Viewed from the side, the industrial hardware, used to build the artworks, becomes visible, causing the weight and mass to become more prominent. Between the light they emit and the physical space they occupy, the artworks exist in a middle ground between fleeting and permanent."